Our Puppy Package
We appreciate your interest in bringing one of Edencourt Kennels' puppies into your loving home.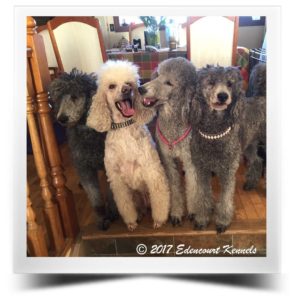 To support you with this transition, we offer the following:
Canadian Kennel Club (CKC)
Registration
Health Certificate
Veterinarian Checkup
1st Set of Shots
Deworming
Identification Tattoos
If applicable, tails docked and dewclaws removed.
House Training Sheet
Schedule of Booster Shots
Feeding Information (Type of food, Quantity, When to switch to adult food)
Pet Insurance for six weeks ($750
value)
Shipping*
* We can arrange worldwide shipping if desired. Note: This is at the discretion of the breeder to keep the well being of the puppy in mind.
We breed and show champion quality Standard Poodles (Silver, White, Cream, Blue, Brown) and Miniature Schnauzers (Salt and Pepper, Black and Silver, Black).